A wood fence in Kansas City is an excellent choice for any homeowner! Wood offers a stunning natural aesthetic, while a solid fence means privacy and noise reduction. Additionally, you can paint or stain wood fences, allowing you to change its appearance as needed over the years.
While wood fences are durable and last for years, they do need replacing eventually. Check out 7 signs it's time for a wood fence replacement in Kansas City for your property. You can then discuss this with a fence installation contractor near you as needed.
1. A Wood Fence in Kansas City Shouldn't Lean
A high-quality wood fence, installed by a reputable contractor, shouldn't lean. This is true even if you have dogs or children who jump or push on the fence! Once the fence starts leaning, this often indicates cracked, soft, or otherwise damaged wood.
Damaged wood isn't strong enough to hold up the pickets of the fence. In turn, the fence starts to lean. Your contractor might then need to replace some backer rails or posts, or the entire fence altogether.
2. Discoloration Even After Power Washing? Time for a New Wood Fence
A thorough power washing can remove mold, mildew, dust, pollen, and other residues, for a like-new appearance. However, if a fence is still discolored even after a quality cleaning, it might be time for a new one!
In some cases, mold and other residues make their way deep into fence posts and rails. In turn, power washing won't get it clean again. If you've noticed discoloration or other unsightly stains even after fence washing, call an installation contractor near you.
3. Splintered Wood Needs Replacing, Not Repairing
In some cases, a fence repair contractor might patch up small splinters, cracks, and other minor damage. A fresh coat of paint over that patch job means a beautiful fence you're sure to love!
Too many splinters and cracks, especially if they're deep, are usually not repairable. Replacing those damaged pickets and other pieces ensures they're strong and in good condition. They can also hold a coat of paint more readily than splintered wood!
4. Too Many Holes? Consider a New Fence Installation
Rot and insect infestation typically means holes in your beautiful wood fence! If there are too many holes and especially if they're rotted, it's time for a new fence. Those holes mean weakness and can let mold form and spread.
Holes in your fence also compromise your privacy. They can also get larger over time. Rather than ignoring them, contact a fence installation contractor for a quote on a new fence.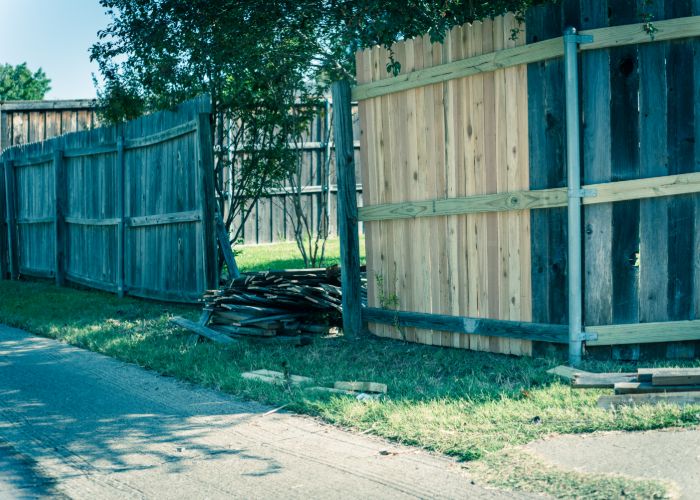 5. Replace Rusted Nails and Boards
Once nails and connectors rust, they weaken. This risks two serious problems for your fence. One, weak nails allow boards to lean and pull away from rails. Two, that rust leaves behind unsightly stains!
You might replace a few rusted nails or connectors yourself. If too many have rusted and if the pickets are now leaning, it's best to consider a new fence. This will ensure a stable fence and prevent unattractive rust stains.
6. Get a New Fence If There's Too Many Thin or Warped Boards
Water-damaged wood might warp, curve, or buckle. Wood also expands as it absorbs moisture and then shrinks as it dries. Over time, this can mean overly thin and misshapen boards.
In most cases, these boards are not repairable. Replacing them and any damaged or warped rails and posts ensures a strong, attractive fence.
7. Get a New Wood Fence in Kansas City if the Current One is Just Ugly!
A fence around your property usually commands a lot of attention! If the current fence is outdated, doesn't fit your home's style, or just ugly, it's time for a new one. You might even be surprised at how a new fence can update your entire property!
For example, pointed pickets create a traditional, country look that might seem out of place next to a modern home. Replacing those with square, simple pickets can mean a clean, stylish appearance. Horizontal pickets also look more modern and can help widen a yard.
In some cases, you might also appreciate a different picket height. Taller pickets add privacy but can look a bit overwhelming! Shorter pickets still mark your property's boundaries but might seem less obtrusive. Your installation contractor can even help you choose an updated fence style for outside your home.
The Fence Company of Kansas City is happy to bring you this information about a wood fence in Kansas City. We hope you found it helpful! When you're in the market for a new fence, call our Kansas City fence installation contractors. We offer FREE quotes and carry a wide range of fence styles. To find out more or to get started with your consultation, call us today.