When meeting with a fencing contractor, chances are the first question you'll ask is how much will your fence cost. This is an especially pressing question for someone with a large yard or lot, as the more fencing materials used, the higher that cost!
The good news for homeowners is that fence costs are often lower than you might assume and vary according to materials chosen. To help you choose the right fence for your property, check out some vital information about how much your fence will cost along with the pros and cons of various materials, and tips on making the best selection for your home.
How Much Will Your Fence Cost?
In short, the average cost of installing a fence falls between $13 and $50 per linear foot. In turn, your fence costs will average between $130 and $500 for every ten feet of fence needed, and these costs might go up or down depending on materials chosen, height of fence, extras such as a gate, and personalized or custom features. Most homeowners will pay around $1200 to $1500 for a new fence, but some fences might cost upwards of $5000 or more.
To help you decide the right fence material for your home, note a few added details about fencing styles and prices according to materials and a few other features and details. Be sure to discuss this information with a fencing contractor near you as he or she can offer some personalized suggestions for your property.
How Much It Costs to Put Up a Fence By Material
Check out a basic rundown of various fence materials and their costs; remember that these are just national averages so your costs will vary. Features such as gates and decorative elements will also add to your overall costs!
Most mesh and chain link fences start at around $12 to $15 per linear foot, with mesh often being slightly higher in price than chain link. Vinyl and other specialty coatings increase this cost. Your price also varies according to fence height, and most mesh and chain-link fences are available in 4-foot, 6-foot, or 8-foot tall options.
Chain link privacy slats also increase your price, but those slats tone down the industrial look of a hurricane fence and help block the view of the neighbors. Green, brown, or black privacy slats can also add a bit of visual interest to your property and provide a nice backdrop for landscaping.
Wood fences typically start at $15 to $18 per linear foot, and this price varies according to your chosen wood species; pine, redwood, and cedar are the most popular and affordable options. Your wood fence price will also vary according to height and design; a 3-foot picket fence will usually run on the low end of pricing while a 6-foot privacy fence with a lattice design at the top might run $20 to $25 per linear foot or even more.
Glass fencing is a favorite choice for adding security to your property and for apartment balconies, as glass panels are difficult to climb while offering a full view of your surroundings. Glass is also very durable and lasts for decades if not even indefinitely, with little to no maintenance costs. However, glass fencing is often at the high end of pricing and averages some $85 per linear foot!
Wrought iron with sharpened pickets offers lots of security but typically runs from $24 to over $40 per linear foot. Heavy wrought iron often requires specialty installers so labor costs also add to its overall pricing.
Vinyl fencing might cost from $15 to $30 per linear foot; this cost will vary according to your chosen height and design. Picket or shadowbox fences are often more expensive than solid panel fencing, and vinyl fences are available in a wide range of heights, from small, decorative picket fences to 8-foot privacy fencing.
If wrought iron fencing is too ornate for your property but you don't want a wood or chain link fence, aluminum is an excellent choice. A 4-foot tall aluminum fence typically averages around $20 to $30 per linear foot and offers a stately yet subdued look you'll love.
The Cheapest Fence to Install, Hands Down.
Other than homemade fences that might use scrap wood and other salvaged materials, chain link or hurricane fences are typically the cheapest fence to install. Chain link fences are sold in rolls, which makes installation much faster and therefore more affordable than many other choices.
Chain link comes in different gauges or thicknesses; the lower the gauge number, the thicker the fence. A 9-gauge fence is somewhat standard for residential homes, while an 11-gauge is often used for temporary fencing or in places where you need minimal protection, such as around a garden. A 6-gauge fence is very thick and durable and more suited for properties that need maximum durability from their fence, such as homes with large dogs that might jump on the fence.
Does Adding a Fence Increase Home Value?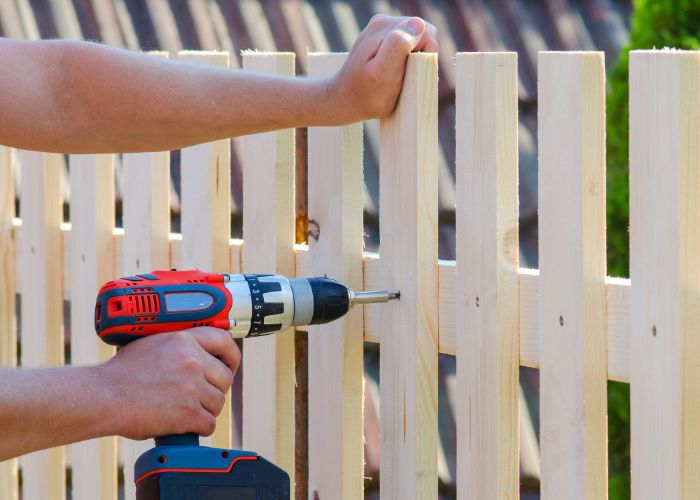 Adding a fence itself doesn't always add much to your home's overall value; however, well-designed outdoor space and enhanced security can increase property values by as much as 20%, and a high-quality fence is an integral part of your property's beauty and security! 
To ensure maximum value from your home's fence, consider carefully its appearance once installed, and balance aesthetics with security. For example, a tall privacy fence adds security but might make a small yard seem claustrophobic and unwelcoming to outsiders; a shorter fence might not add as much privacy and security but can create a better appearance outside your home.
Homeowners should also remember that a backyard's appearance overall increases property values, and that means ensuring you have lots of attractive landscaping features along with a stunning fence! You don't necessarily need to spend much money on landscaping to create a beautiful look for your property, but should definitely invest in some green shrubs and colorful flowers, to create a welcoming appearance and tone down an otherwise overwhelming fence.
Needed fence repairs are also vital for ensuring your space looks its best. Wood fences typically need fresh sealant every year or two, and a homeowner should address rotted wood slats, sagging chain link sections, and other repairs as quickly as possible to avoid a rundown look along their property.
Important Tips for Choosing a Fence Material and Style
Homeowners are often surprised and even a little overwhelmed by their many fencing options! To help you choose the best material and design for your home, check out these quick but important tips including some pros and cons of various fencing materials.
Don't overlook long-term maintenance when choosing a fence material! Vinyl, glass, wrought iron, and aluminum fencing typically need little to no maintenance, while wood fencing might require consistent sealing and repainting. Chain link fences often start to sag over the years and need refastening to their posts.

Solid panel vinyl and wood fences help block a dog's view of neighbors and passersby, which can mean less barking and agitation. However, some dogs become nervous when they can't see through a fence, so keep your dog's comfort in mind when deciding on a fencing material.

A tall privacy fence not only blocks the view of neighbors and passersby, it also helps block noise and heavy vibrations such as from a busy roadway or nearby school.

One downside of a privacy fence is that neighbors also can't see into your yard and notice potential intruders! Taller fences can also make smaller yards look downright claustrophobic and block your view of the horizon.

Tall, solid panel fences also block the wind. This is an excellent feature for homes with pools, as wind cools pool water and causes the heaters to cycle on more often. However, on warm days this can be a downside, as cool breezes keep your outdoor space comfortable and welcoming.

If you're concerned about intruders, consider security features for each fence design. Chain link fences are somewhat easy to scale as those links offer a toehold for climbers, whereas solid panel fences offer no toehold. Pointed finials and pickets at the top of wrought iron and wood fences also discourage climbers.

Don't overlook your home's style when choosing a fence. Glass and aluminum fences are excellent for modern homes with lots of glass and metal features, but they might seem a bit stark around a traditional or craftsman style home. If your craftsman home has lots of natural wood features, a tall, solid panel wood fence might mean too much wood overall; scale down its height and add some metal detailing for contrast.

If you must have a tall, solid panel fence for security and privacy, add decorative elements to break up its overall appearance. Hanging flowers planters and metal posts between panels offer some color and texture, or you might add a lattice at the top to keep the fence from looking too tall and foreboding!
A Word From Our Fence Company
The Fence Company of Kansas City is proud to offer this information to our readers and we hope you found it helpful! If you're still wondering how much does a fence cost, or would like to schedule a FREE consultation for fence installation in Kansas City, give us a call. We carry a full catalog of all the best designs and fence materials, such to fit your needs and budget. The leading Kansas City fencing contractors.