Vinyl fencing for a Kansas City yard is an excellent choice no matter your home's overall style or your reasons for needing a fence. Vinyl is a favorite especially for pool owners and families with young children and large pets.
If you're in the market for new Kansas City fencing, you might note some reasons why so many families in your area love vinyl! You can then discuss this option with a fence company near you, and know you'll end up with a beautiful, durable fence you'll love for years to come.
The Durability of Vinyl Fencing for a Kansas City Property
When you invest in a new residential fence for a Kansas City property, you want to know you've chosen a durable material that will stand the test of time! Poor-quality mesh and chain link fences might tend to collapse over time, especially if you have children and pets who jump on or climb over the fence, putting pressure and weight on it.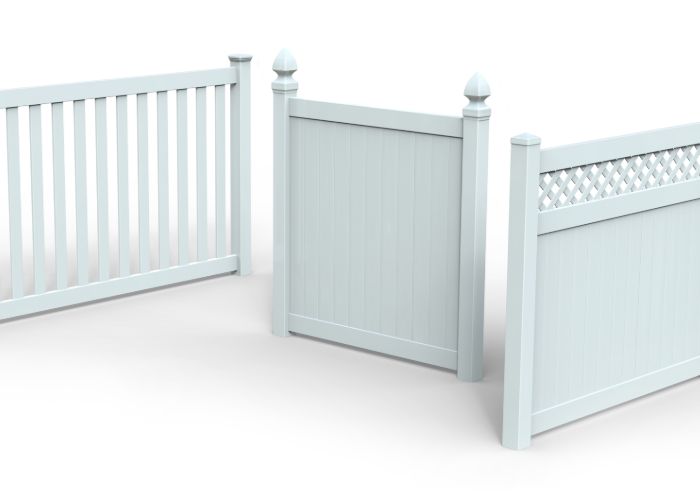 While wood fences are durable against collapsing, they also show lots of scratches, etching, chips, nicks, and other such marks, and especially as the result of large pets scratching the fence, children bouncing balls on them, and other such wear and tear. While glass fences are typically thick and shatter-resistant, they can also suffer scratches and other wear over the years.
Vinyl, on the other hand, is very durable and rarely suffers nicks and scratches. Rigid vinyl is also not likely to collapse even during a storm and even if someone were to climb it repeatedly! Vinyl also doesn't feed mold or mildew, resisting those materials instead.
Unlike wood fences that need consistent sanding, staining or painting, and sealing, vinyl needs little to no maintenance over the years. The material also doesn't rust or corrode as might some metal fences, even when exposed to airborne pool chemicals, which is why so many pool owners love a vinyl fence! A simple power washing as needed to remove dirt and mud is typically sufficient for keeping vinyl fencing in a Kansas City yard in good condition and looking its best.
Vinyl Fencing in Kansas City Offers a Neutral Style
A home's fence should coordinate with and complement its exterior style, as well as your patio or deck and other such features. Choosing a fence that works well with your house and any outdoor spaces is often more challenging than homeowners realize, however! A traditional wood fence in a Kansas City yard might look nice outside a brick home but add too much wood next to a deck, while a mesh fence might seem too industrial next to your stone patio.
For a neutral style that works well with virtually any décor or surface material, opt for vinyl fencing for a Kansas City yard. Vinyl coordinates with brick and metal siding, as well as wood decks and stone patios. Vinyl also blends well with metal or wood patio furniture painted just about any color!
The neutral color of a vinyl fence also provides a stunning backdrop for landscaping features; your red roses and yellow tulips will "pop" and be far more visible in front of a white vinyl fence than a plain mesh fence, for example. White vinyl also stands out against green grass and shrubbery, providing lots of contrast for your lawn. If you've struggled to find a fence material that fits your home's outdoor space, neutral vinyl fencing in Kansas City might be just the solution you need.
Solid Panel Vinyl Fencing in Kansas City Means Privacy!
While chain link fences are often a very affordable choice, note that they offer virtually no privacy around your yard. A homeowner might plant shrubs in front of the fence or allow vines to grow through its links, but this means added cost and work to maintain those plantings. As most chain link fences are also only a few feet high, even with shrubs and vines you and your neighbors can typically still see each other very easily!
Solid panel vinyl fencing in a Kansas City yard means added privacy for you and your neighbors. You can then enjoy your patio or deck in peace and quiet without worry of an audience, and also ensure your neighbors have their privacy as well.
This added privacy is especially important for families with small children, as you don't want strangers in the neighborhood to keep watch of your daily schedule and children's activities. Solid panel fencing is also vital if you have dogs that tend to bark at strangers and passing cars! Blocking their view of the neighborhood helps keep the animals quiet while they're outside.
Soft Vinyl Fencing in Kansas City Absorbs Sound
Along with your neighbor's view, chain link as well as wrought iron and mesh fences both do very little to absorb sound! Even with shrubs and other plants in front of them, sound waves tend to make their way right through those open fence styles so that you can easily hear your neighbors as well as passing cars, and of course your neighbors can also more readily eavesdrop on your conversation!
Soft, solid panel vinyl fencing, on the other hand, blocks sound waves on both sides, keeping noise from neighbors and traffic out of your yard while also keeping your conversations more contained in your space. You and your neighbors are also less likely to be bothered by dogs barking and other noise sources when you invest in vinyl fencing.
Along with sound waves, vinyl fencing also helps absorb vibration such as from traffic or heavy machinery. If you live near a busy highway, production facility, construction site, and other such nuisances, your new solid panel vinyl fencing can mean less bothersome vibration while also helping block an otherwise unpleasant view!
Vinyl Fencing in Kansas City Is Affordable
Homeowners with a larger yard will especially appreciate the affordability of vinyl fencing, as you can then stretch your new fence all the way around your property without breaking your budget! Little to no maintenance over the years also means added affordability for homeowners. Keep all these points in mind when you're in the market for a new fence and consider affordable, durable vinyl fencing for a Kansas City property.